L'aggiornamento di oggi è dedicato ad un ospite di Kalamos Komics, l'artista fetish sudamericano,
Modulok-Zero
.


Omonimo del personaggio della serie fantasy, Masters of the Universe.
Il suo stile è giocoso; il tratto fluido, corposo e carnale.
Le sue protagoniste sono donne giunoniche, reinterpretate e trasfigurate dal suo gusto particolarissimo e vagamente lisergico.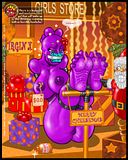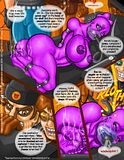 La sua ispirazione è colta, a tratti profonda.
Riesce a trasmettere un
erotismo muscolare
, e al tempo stesso
sofisticato
.
Nonostante la tematica non convenzionale - la super eroina
Virgin X
finisce inevitabile legata e dominata - la narrazione non sfocia mai nella violenza esplicita presente in alcuni fumetti Hentai o BDSM.
La protagonista è segretamente masochista; i suoi avversari ne sono consci, e in qualche modo la storia diventa un complesso
gioco delle parti
.
Le allusioni feticiste rendono le illustrazioni, vibranti e gustose, una gioia per gli occhi anche per gli appassionati di
piedi femminili
.
Lodevole anche il fumetto animato, ispirato all'Uomo Ragno delle origini,
La Aracnida Muneca
, Spider Doll.
...
* Modulok-Zero -
Deviantart
.
* Modulok-Zero -
Youtube
.
* Modulok-Zero -
Sito Ufficiale
.