As I was mentioning in a previous update, Fiona Princess of Velusia was a "gestalt" character.

She was inspired by Cinnamon Orange, a talented artist in her own self, and a cosplay enthusiast who posed as my own model for Fiona.

And now Cinnamon is back, with her own portrayal of the character, in her distinctive polished, flowing style.


Come anticipato in un articolo precedente, Fiona, Principessa di Velusia è frutto di uno sforzo comune.

L'ispirazione è giunta da Cinnamon Orange, disegnatrice di talento, e appassionata di cosplay, che ha posato per me come Fiona.

Ora Cinnamon è tornata, con la sua versione del personaggio, dipinto in uno stile delicato e lezioso.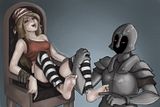 Delightful beyond words.
I'm moved and elated.
You can watch Cinnamon's Gallery on DeviantArt.


Semplicemente deliziosa.
Sono commosso.
Potete seguire Cinnamon sulla sua Galleria di DeviantArt.

...
Credits:
* Cinnamon Orange Tea - DeviantArt Gallery
* My Blog - Kalamos Komics
* My Publisher - MTJ Publishing
* My Producer - LauraLib's Devotion2
* My Fave Place - Sadika Club - Milano