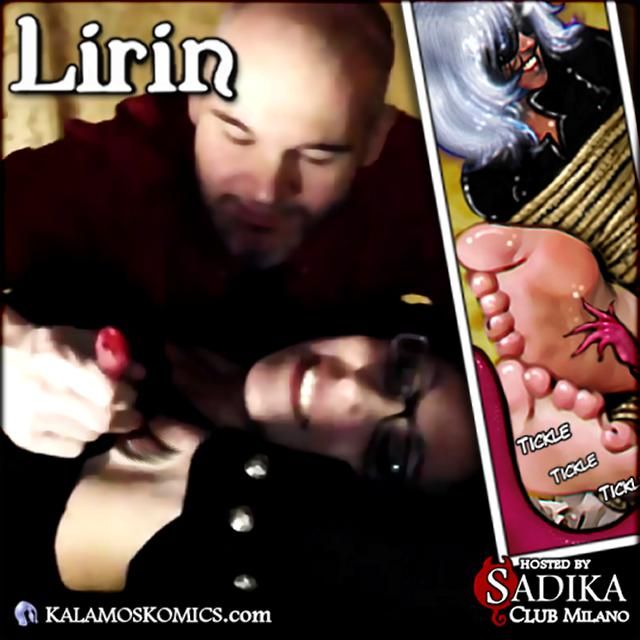 * Full Clip * Preview * BUY NOW *

Kalamos Komics proudly presents:
Lirin's Second Public Tickling,
from Sadika Tickling Nights.

Lirin comes back and faces the wooden board, yet again, under Club Sadika patrons' merciless scrutiny.

This video opens with Lirin's debooting and nylon-clad sole flashing.
Next, it's self-bondage time, as Lirin proceeds to tie herself up, securing her own ankles with sturdy ropes.

Intro is a 9 minute long free extra feature, with some bondage play and stockinged foot flashing.


Kalamos Komics ha il piacere di presentare:
la Seconda Sessione in Pubblico di Lirin.

Lirin torna ad affrontare il tavolo della tortura, sotto lo sguardo impietoso degli avventori del Sadika.

Nella parte iniziale, Lirin si sfila i pesanti stivali, esibendo le proprie estremità avvolte nelle calze di nylon.
Quindi procede a legarsi da sola, assicurando le proprie caviglie al tavolaccio di legno.
L'introduzione dura circa nove minuti, con alcune prove di legatura, riprese da diversi punti di vista.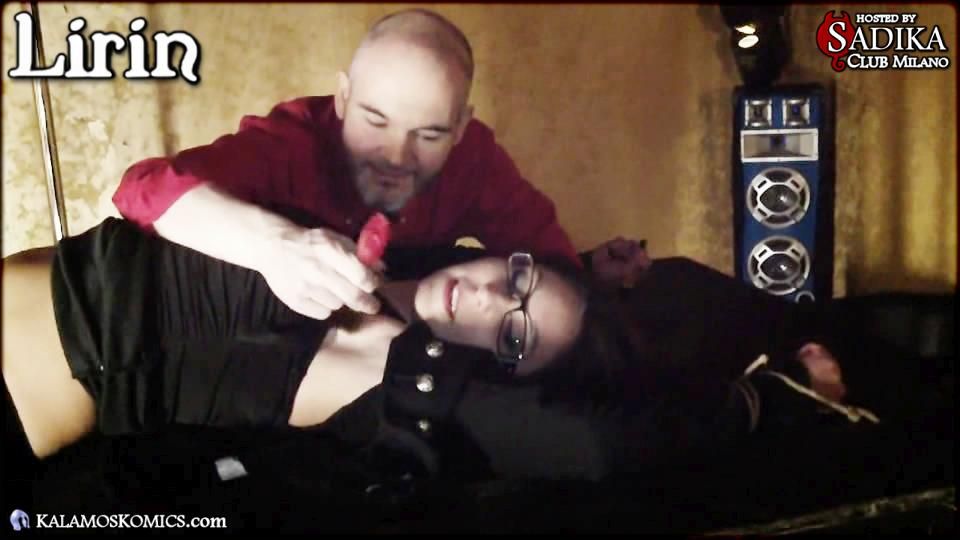 * Full Clip * Preview * BUY NOW *

After the bondage intro, true tickling action beings, as tickling artist Kalamos puts those knots under stress.
As Lirin quickly finds out, she's quite handy around ropes; something she'll start regretting soon enough.

Kalamos alternates between tickling tools and empty handed torture.
Lirin fights against her bonds, but to no avail.
Even when knots seems to loosen a bit, Kalamos ruthlessly pins her down.
Lirin isn't quite sure whether she should be thankful about it, yet.


L'azione vera e propria comincia quando Kalamos saggia la tenuta delle corde.
Lirin scopre di aver fatto un buon lavoro.
Avrà modo di pentirsi della propria perizia.

Il filmato ha una struttura fluida: Kalamos alterna strumenti e tortura a mano libera.

Lirin cerca di divincolarsi, ma anche quando i nodi sembrano allentarsi, Kalamos la trattiene a viva forza, impedendole di fuggire.
Lirin non sa se essere o meno grata.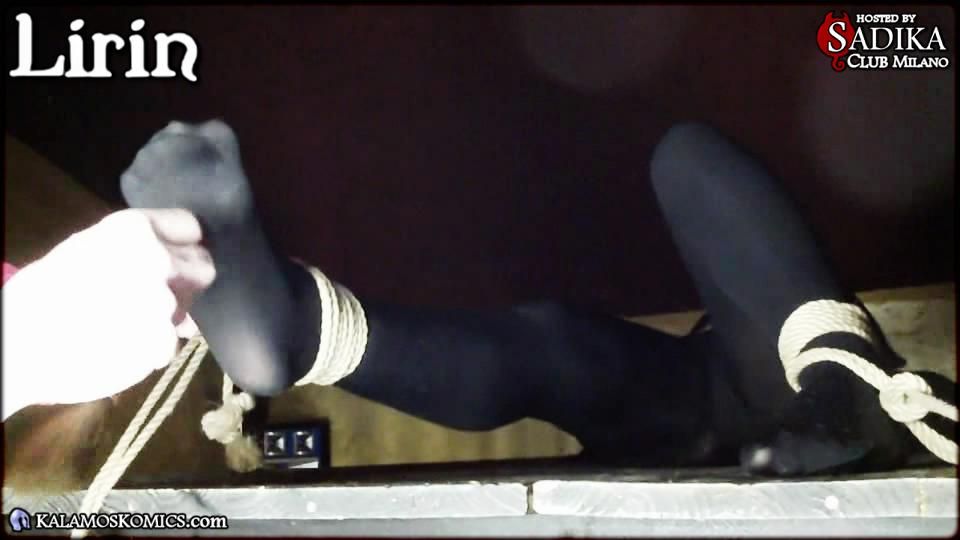 * Full Clip * Preview * BUY NOW *

Kalamos' fingers slowly and methodically dance all over Lirin's quivering flesh.
Tickling is an art indeed, and no pressure should be put upon the inspired soul.
Lirin's torture escalates into a crescendo of torment and pleasure.
Consummate in his trade, the tickler toys with his ticklee.
The vicious rotating brush drives Lirin into hysterics, teasing her with the elusive promise of eventual release.

Lirin laughs and sobs, her pitiful plight unheard, and she slowly loses control over her own body.
At last, weary and yet happy, Lirin smiles back, sending a flying kiss to her fans.


La liturgia della tortura è lenta e metodica.
Kalamos non ha alcuna fretta, e conduce Lirin in un crescendo parossistico di pena e passione.

Con perizia ormai consumata, il carnefice gioca con la vittima.
Lo spazzolino rotante indugia a lungo, regalando illusioni.

Lirin ride, si morde la lingua, geme; il corpo squassato dai sussulti.
Alla fine spossata, ma felice, sorride e manda un bacio alla telecamera, la pelle imperlata di sudore.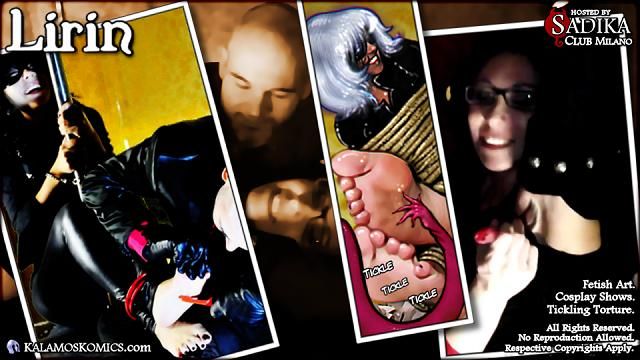 ...
* PREVIEW *
* Full Clip * Preview * BUY NOW *
...
* Follow Kalamos Komics:
* On
Facebook
- On
DeviantArt
.
* Follow the Cosplay Crew:
* On
Facebook
- On
Twitter
.
* Credits:
* My Blog -
Kalamos Komics
* My Store -
Tickling Cosplay Clips
* Hosted by -
Decadence - Bologna
* Hosted by -
Sadika Club - Milano
* Camera by - Nikita.