Eerily charming, hellish Fumaria DeMonique is a ticklish pinup I came up with as a mascot for my Tickling Art collection:
the Twelve Dungeons of Kalamos.

Inspired by poledancing artist and dominatrix, Angelina Demony.


La diabolica Fumaria DeMonique è una bellezza ultraterrena che ho realizzato come pinup per la mia nuova raccolta di disegni fetish: le Dodici Segrete di Kalamos.

Ad ispirarla, Angelina Demony, ballerina e dominatrice.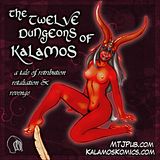 More about my Art
.
More about Angelina Demony
.
More about my New Fetish E-Comic
.
Meet Angelina Demony Live at Sadika Club - Milano
* Credits:
* My Blog - Kalamos Komics
* My Producer - LauraLib's Devotion2